---
Recovery from Rotator Surgery (or any other shoulder surgery)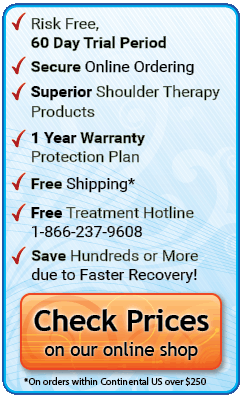 For Post-Surgery Recovery, cold is recommended by doctors to treat your pain in a natural, non-addictive way and to reduce swelling.
After the incision site has healed, use our TShellz Wraps to achieve a fast healing rate via Circulation Boost. Using the TShellz Wrap as soon as pain & swelling has reduced following your surgery will minimize scar tissue growth in your shoulder that will form as you heal. Treating scar tissue is the most important step following surgery, especially in a joint as scar tissue growth will impact range of motion in the joint.
Leaving post-surgery scar tissue untreated can lead to stiffness, chronic pain, osteoarthritis or other chronic conditions. You're more likely to end up with another shoulder injury if you choose not to treat the scar tissue that develops in your shoulder. Circulatory Boost encourages more oxygen and nutrients to flow to the area to speed healing and improve the strength of the soft tissue in your joint.
---
What Can I Use a Shoulder T•Shellz Wrap® To Treat?
The Shoulder T•Shellz Wrap® is designed to treat top, front and back portions of the shoulder - basically the whole shoulder. Our Shoulder T•Shellz Wraps® are universal, meaning one "Shoulder T•Shellz Wrap®" can be used on either the left shoulder and/or the right shoulder.
Some of the more common areas and conditions of the shoulder where soft tissue is often damaged:
Rotator Cuff Injury
Subacromial Bursitis
Subcoracoid Bursitis
Subdeltoid Bursitis
Frozen Shoulder (Adhesive Capsulitis)
Subscapular Bursitis
Acromioclavicular Ligament, Coracoacromial Ligament, Coracoclavicular Ligaments, Coracohumeral Ligament
Articular Capsule, Glenohumeral Ligaments, Transverse Humeral Ligament
Supraspinatus, Infraspinatus, Subscapularis, Teres Minor muscles
Tendonitis, Tendinosis, Tenosynovitis and/or Tendovaginitis of: Supraspinatus, Infraspinatus, Subscapularis, Teres Minor
Bone Spurs of the Shoulder
Post-Operative Surgery Recovery
Shoulder Overcompensation
Shoulder Dislocation (recovery)
Click HERE to Go To Our Online Store We take all major credit cards and Paypal. If you are on your mobile phone, Click HERE to Call Our Office (toll free continental NA).
---
TShellz Wrap Re-Injury Risk Reduction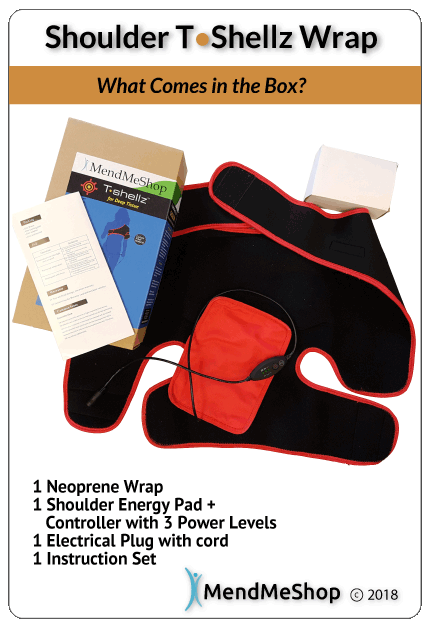 Don't Let the Absence of Pain Fool You
After some time has passed since a soft tissue injury, it is not uncommon that you arrive at a point where there is no longer pain, and you find that you can get around much more easily. This often happens after a couple days of treatments and some rest on the sofa. Be careful! This is often where trouble can start.
Since the pain is gone, you can mistakenly start thinking your injury is healed. Not knowing this, we start become active like we used to again and in so doing, interrupt the healing process and start to stress the partially injured shoulder, often re-injuring it again. We continually re-injure the rotator cuff injury through our daily activities and now this injury has become a chronic shoulder injury.
Eventually, we use the other shoulder more and more - or even use our elbow instead of our shoulder for a lengthy period of time. This is why the elbow and opposite shoulder start to hurt, and then really hurt - they are being overused now. (the term for this is "overcompensation pain") Soon, aches and pain can become commonplace in the upper body - all as a result of the orignal shoulder injury and the body's instictive nature to "protect" the orginal rotator cuff injury.
With a chronic soft tissue injury, odds of surgery increase as do the odds of more soft tissue injuries due to overcompensation. What I'm saying is this: once you start feeling better and the pain has disappeared, your injury is still there. Depending on the type of injury and/or condition, it may take another 4 months to heal and this is why we recommend to continue with your conservative treatments for a substantial time period even though there is little or no pain.
---
Can I Avoid Shoulder Surgery, Bone Spur Surgery or Impingement Surgery?
It's generally understood by doctors and surgeons that surgery will introduce more scar tissue. This added scar tissue will be problematic, requiring visits to the physio clinic and conservative treatment options post-surgery. If not dealt with properly, your shoulder could end up in worse condition than before the surgery! This is why surgery is only performed as a last resort.
There are some shoulder conditions where surgery is really unavoidable. Often, such surgeries will be for repairing full tears or bone spur removal. When it comes to bone spurs, you may be interested to know that there are many people with bone spurs that are not even aware they have them. It is only when there is inflammation (usually tendonitis or an impingement) that the bone spur often becomes noticeable and irritating. This is why a physician will often tell you that bone spur removal is not necessary - if you can remove the inflammation around the bone spur, then there is no longer an issue with it. In cases where surgery happens, know that the use of a Cold Compress or Ice Pack and a Shoulder T•Shellz Wrap® are excellent home treatment tools for recovery from shoulder surgery. The treatment will depend on when and where the surgery occurred. Click here to learn more about post-surgery.
Most doctors, surgeons and orthopedic specialists will recommend conservative therapy for soft tissue injuries before even considering surgery.
Some of the most effective conservative treatment methods you will find are:
Rest

- This is important for initial healing because without rest, you are at risk for increased inflammation, pain and re-injury to your shoulder. This can make your shoulder injury even worse, turn an acute injury into a chronic case, or even damage other soft tissue in your shoulder (or other areas due to overcompensation).

Avoid Activities that Caused Your Injury

- While resting your shoulder it's also important to avoid all activities that may have caused your injury in the first place (especially if you are active in any sports or activities). Continuing on with regular activities will not only make your injury worse, but trying to 'work around' your injury will wind up giving you over-compensation pain in other areas of your body (like your opposite/healthy shoulder, elbows and even cause neck pain).

Use a Cold Compress or Ice Pack


Cold will help you to manage pain while getting rid of swelling, inflammation and edema in the shoulder. Immediate pain relief and reduced inflammation can also relieve some of the pressure that's being placed on the soft tissue in your shoulder and stop your injury from getting worse.
Use a T•Shellz Wrap® (Circulatory Boost) - You can use your own blood flow to maximize your bodys capabiliity to heal damaged tissue.

Stretch your Shoulder

- Gentle stretching will maintain flexibility of your tissue and help to break up scar tissue that forms during healing. Consistent yet gentle stretching of your shoulder during conservative treatment will help maintain or increase your range of motion and speed up your overall recovery.
Click HERE to Go To Our Online Store We take all major credit cards and Paypal. If you are on your mobile phone, Click HERE to Call Our Office (toll free continental NA).
---
Our Rotator Cuff Formula is Proven to Work!
We are very confident our T•Shellz home therapy products will assist you in recovering from your injury by reducing your swelling and inflammation induced pain, maximizing blood flow where it's needed most and increasing the flexibility / range of motion of your shoulder with consistent stretching.
Here at AidMyRotatorCuff we pride ourselves in helping you with your healing and recovery process. Everyone at AidMyRotatorCuff has tested and used the products, finding solutions to conditions that do not fit into the norm. This dedication to our customers and our products goes hand-in-hand with our guarantees to you as a customer:
Guarantee #1

- Use your products diligently for up to 60 days and you will experience a significant reduction in pain. If not, I encourage you to send back the items for a 100% refund.

Guarantee #2

- You will not be left in the dark after purchasing any product form us. AidMyRotatorCuff Advisers and Product Specialists are available 7 days a week by toll free phone 1-866-237-9608 or email to answer your questions or concerns.

Guarantee #3

- Your order is guaranteed to be shipped within 24 hours on every business day.

Guarantee #4

- All purchases receive a one year, full replacement warranty with guaranteed, prompt service.

Guarantee #5

- You could easily save hundreds of dollars and probably much more, by utilizing our products and getting back to work sooner.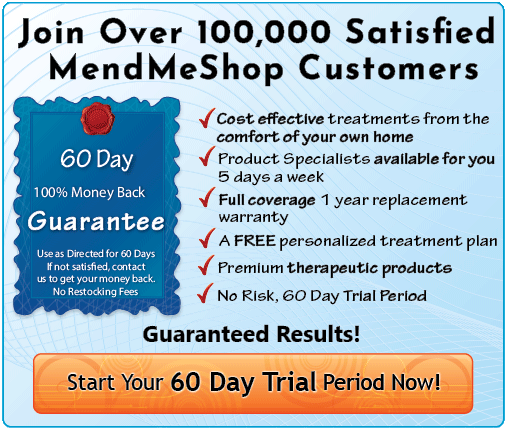 Click HERE to Go To Our Online Store We take all major credit cards and Paypal. If you are on your mobile phone, Click HERE to Call Our Office (toll free continental NA).
Simply call toll free 1-866-237-9608 to place an order with one of our knowledgeable Product Advisers. They have the ability to answer all your questions...ensuring you only receive the products you need.
Product Advisors are available 9:00 am to 5:00 pm Eastern Standard Time Monday to Friday.
North America Toll Free 1-866-237-9608
Outside North America +1-705-532-1671
---
Yes, they are that good.
See for yourself.
Once treatment is complete, you also have the option of tightening the straps to provide light compression support for your injured joint. You can also unplug the device from the power supply enabling you to move around the home, office or clinic freely and still use the wrap for support and comfort.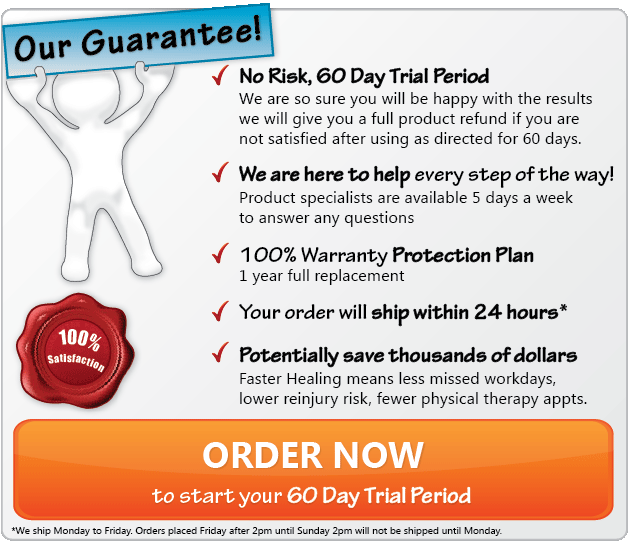 Click HERE to Go To Our Online Store If you have questions, call our office at 1-866-237-9608 (toll free continental US).
Living with pain is never easy and we encourage you to call us with any questions you have related to your shoulder injury. We will do our best to help.
Available Monday to Friday
---
Please be aware that this information is neither intended nor implied to be a substitute for professional medical advice. CALL YOUR HEALTHCARE PROVIDER IMMEDIATELY IF YOU THINK YOU MAY HAVE A MEDICAL EMERGENCY. Always seek the advice of your physician or other qualified health provider before using any of our outstanding products to make sure they're right for you and your condition or if you have any questions regarding a medical condition. Always see your doctor for a proper diagnosis as there are often many injuries and conditions (some very serious) that could be the cause of your pain.