---
The Reasons For Our High Success Rate - Our Customers!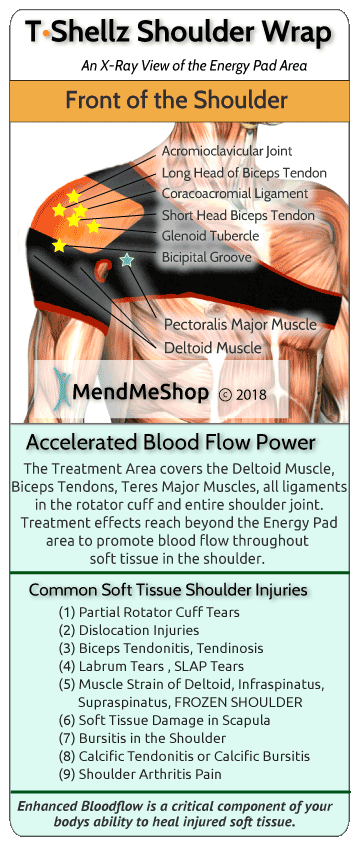 We will never claim our products will work for everyone. That is simply impossible to achieve. Everyone has a different capacity for healing and different circumstances behind their injuries and/or conditions.
In addition, some people may have a hard time sticking with recommended protocol in order to achieve benefits from our devices. Quite simply, our clients that have had successful outcomes have made a small effort to invest 60 minutes a day into the program. If you do the same, chances are you will be very happy with the outcome.
We have helped thousands of clients since 2006 and since the introduction of our T•Shellz Wraps®, our refund rate has been very low - currently running consistently below 5%.
That means that for every 100 people who try our products, 95 of these individuals are happy with the results these products provide. Odds are certainly in your favor that you too will achieve a happy outcome. This fact alone speaks volumes to the effectiveness of our solutions and with a full 60 day money back guarantee on our wraps, there really is no risk in trying.
Right after you place an order, email us and we will have a plan developed immediately so you will be able to get started upon arrival of your parcel. We can't promise you miraculous results, however, we do promise to do everything we can to help you with your condition.
Everything you have read up to now has hopefully given you some hope.
However, words are meaningless unless a company stands strongly behind the products they sell. This is what sets us apart from others...we offer people a comprehensive, 60 day, full 100% money back guarantee. We take on all of the risk because we know our products work well for the overwhelming majority of people who purchase them.
---
We Will Support You Every Step of the Way
You are never alone when making a purchase from us. When we say we stand behind our products, we truly mean it!
If any question or concern arises, simply send us an email at any time (we check our emails constantly all throughout the day and night - even on holidays!). We will respond as soon as possible.
Click HERE to Go To Our Online Store We take all major credit cards and Paypal. If you are on your mobile phone, Click HERE to Call Our Office (toll free continental NA).
Simply call toll free 1-866-237-9608 to place an order with one of our knowledgeable Product Advisers. They have the ability to answer all your questions...ensuring you only receive the products you need.
Product Advisors are available 9:00 am to 5:00 pm Eastern Standard Time Monday to Friday.
North America Toll Free 1-866-237-9608
Outside North America +1-705-532-1671
---
We Stand Behind All Our Promises With An Iron-Clad Guarantee
Guarantee #1

Use your products diligently for up to 60 days and you will experience a significant reduction in pain. If not, I encourage you to send back the items for a no-hassle 100% refund.

Guarantee #2

You will not be left in the dark after purchasing any product form us. AidMyRotatorCuff Advisors and Product Specialists are available 7 days a week by toll free phone or email to answer your questions or concerns.

Guarantee #3

Your order is guaranteed to be shipped within 24 hours on every business day.

Guarantee #4

All purchases receive a one year, full replacement warranty with guaranteed, prompt service.

Guarantee #5

You could save hundreds of dollars and possibly more, by utilizing our products, and getting back to work sooner.

Guarantee #6

Everything You Read on this Site is Absolutely True. Unlike us, companies not registered by the FDA can state anything they want about their products. Because we are FDA registered, you can rest assured that these products do exactly what we say they do.
We Can Get You Started For Less Than The Cost Of A Few Physical Therapy Treatments
Overall, we are able to be cost effective and value oriented due to two major reasons:
Word is spreading and as a result, our sales are increasing. With this increase, we can achieve economies of scale...meaning we receive the best component pricing because our volume is high.


We keep our overhead costs low by selling only on-line versus setting up costly distribution channels offline.
Think about it – you can now have the ability to treat your pain from the comfort of your own home while saving money in the process. Best of all, you are fully protected when making a purchase from us as we offer a no-hassle 60 day, full money back guarantee.
---
The Next Step Is Up To You!
Living with pain is never easy as it affects your entire lifestyle. Nothing is more important than making the proper decision when it comes to treating your muscle injury. Most methods only mask the problems or provide temporary relief; they do not treat the pain at its source.
AidMyRotatorCuff stands out in this regard as our goal is to help you heal for the longer-term.
The bottom line is, you are welcome to try our products for a full 2 months. If you do not receive the benefits that others have experienced, simply return your purchase back to us and we will issue a prompt & full refund. There will be no hassle and no hard feelings.
Are You Now Ready to Properly Heal Your Shoulder Injury? Let's Make It Happen...
The fastest option you have to get our product into your hands as soon as possible is by placing your order online - at this very moment..
Place your order on-line through our secure website by clicking the image below: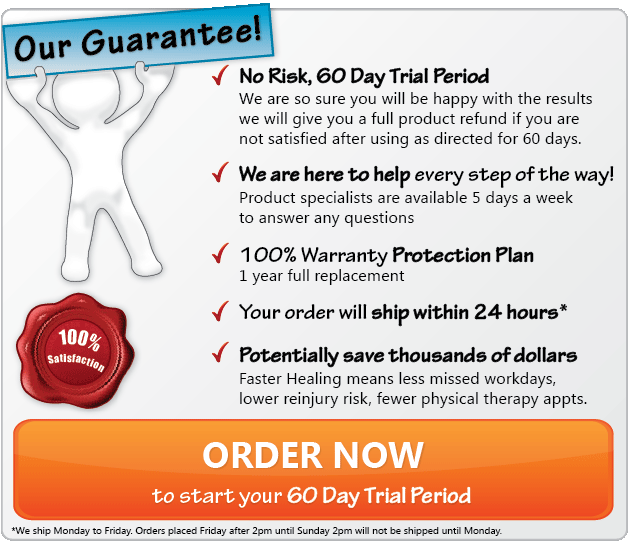 Or, Call Our Office. We are open Monday to Friday to allow you place an order over the phone. Simply call toll free 1-866-237-9608 to place an order with one of our knowledgeable Product Advisors. They have the ability to answer all your questions...ensuring you only receive the products you need.
North America Toll Free 1-866-237-9608
Outside North America +1-705-532-1671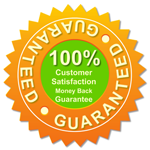 If you choose to order through our online shop, know that we keep no credit card data on file. Once the transaction is completed, the credit information disappears from our internal systems.
As you can see, ordering from us is a very easy and safe process, no matter if choosing to order on-line or over the phone.
Are you still unsure about placing an order? let me address some questions that may causing some hesitation...
What is the success rate of the Shoulder T•Shellz Wraps®? Do they really work?
The short answer is - yes, the T•Shellz Wraps® are very effective at healing muscle and soft tissue injuries. We try and keep in touch with a large percentage of our customers, and we encourage them to do the same. In doing so, we have received a lot of feedback as we have sold Electromagnetic Devices since 2008.
We can say that the return rate on our products is only around 5% any given month. That is exceptional by anyone's standards. Therefore, we can safely indicate that the overwhelming majority of people who purchase from us do achieve benefits with our products.
What is the difference between the T•Shellz Wrap® and a standard heating pad?
The differences between the T•Shellz Wrap® and heating pads, moist gel packs, etc - is a night and day comparison. There is nothing that compares to the healing capacity of the T•Shellz technology.
To begin with, heating pads and the like work on conduction. The heat has to be forced through multiple layers of skin and fatty tissues. With each layer of skin the heat passes through, there is a corresponding energy loss because that heat is absorbing into each layer it passes through. By the time the heat reaches the targeted area, very little energy is remaining and this does not effectively enhance blood flow. Without the enhanced blood flow effect to the injured tissues - healing just won't happen.
The heating pad may feel good when on the body, but that is because you are merely heating the skin. Moist heat has been believed to be more effective at warming internal tissues versus dry heat, because it is believed that water transfers heat more quickly than through air. Clinical studies do not support the popular belief.
In comparison... The T•Shellz Wrap® is based on the scientifically validated principal of Electromagnetic energy. This form of treatment is safe and effective as shown in numerous studies which can be referenced through the National Library of Medicine.
The energy from the T•Shellz Wrap® ultimately will gently warm deep tissue, improve blood circulation, and boost metabolism and enzyme activity. This is why it works so well - because the body responds very well to this form energy. In stimulating blood flow to the damaged tissue, you provide the tissue with the oxygen, nutrients, and antibodies it needs to regenerate new, healthy collagen. In addition, you will experience a clearing of toxins and excess fluid build up from the injury site. Over the intermediate term, this helps to reduce incidents of swelling as trapped fluids will be whisked away - reducing pressure on vessels.
How much time do I need to dedicate for treatments? Are the products easy to use?
The T•Shellz Wraps® are very easy devices to use. After one or two uses, you will engage in the treatments with ease. Very detailed instructions are included and you are always welcome to contact us by phone or email if the need for help arises.
In regards to the T•Shellz Wrap®, it is ideal to use the device two or three times a day on average. Each treatment session is a maximum of 20 minutes in duration and the device will turn off automatically at that time. Typically, people use the T•Shellz Wrap® before bed, upon awakening (or not long after) and one other time during the day when the opportunity presents itself. For people in an office setting, many will use the device at work (as it can be worn over clothing). For others, they will use the device an our or two after work.
A Cold Compress or Ice Pack is primarily used following activity that stresses the injured tissues (following work, after a sports activity, or just suffering a general re-injury). This is done to reduce inflammation and to minimize tissue damage. Treatments are 15 to 20 minutes in duration.
How long has MendMeShop been in business
We established our firm in December of 2005. Our track record in this field continues to grow and we plan on being around for many decades to come.
What is your return policy? Is it the standard 30 days?
We go above and beyond what other companies offer - we offer a full 60 day money back guarantee with no restocking fees.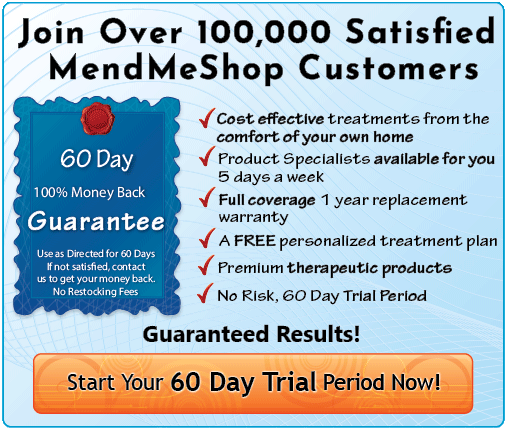 AidMyRotatorCuff advisors do not work on commission, so be assured you will only receive fair and objective information.
Learn More About SUPERIOR Shoulder Treatments
I want to learn more about Shoulder Post Surgery.
I want to learn more about ICE VS HEAT Treatments.
I want to learn more about T•Shellz Wraps®.
Living with pain is never easy and we encourage you to call us with any questions you have related to your knee injury. We will do our best to help.
Available Monday to Friday
Please be aware that this information is neither intended nor implied to be a substitute for professional medical advice. CALL YOUR HEALTHCARE PROVIDER IMMEDIATELY IF YOU THINK YOU MAY HAVE A MEDICAL EMERGENCY. Always seek the advice of your physician or other qualified health provider before using any of our outstanding products to make sure they're right for you and your condition or if you have any questions regarding a medical condition. Always see your doctor for a proper diagnosis as there are often many injuries and conditions (some very serious) that could be the cause of your pain.