---
Do You Want to Start Stretching After A Rotator Cuff Injury?
The first thing to do is speak with your doctor. Only your doctor can give you a proper diagnosis and from this, determine a course of proper treatment. Unless you need surgery to fix your torn rotator cuff, your doctor will almost always recommend conservative treatment options - conservative treatment options for a rotator cuff tear typically means rest, ice the injury, elevate the injury and take anti-inflammatory medication.
Second, if your doctor has decided that your injury can be treated with conservative treatment options, then you'll find that many of our customers have had great success treating themselves with our powerful conservative treatment products - the Shoulder Cold Compress or Ice Pack and Shoulder T•Shellz Wrap®.
Or, if surgical intervention is required, talk with your doctor about using these same products for post-surgery recovery as you will find them to be effective for

reducing post-surgery inflammation

,

enhancing range of motion

and

minimizing scar tissue growth

.
... and Re-injury to your rotator cuff must be avoided at all costs!
---
When Should You Use A Shoulder T•Shellz Wrap® On Your Rotator Cuff?
Circulatory Boost treatments work best to increase blood flow circulation and relieve pain for older (chronic) injuries, re-injuries (after swelling has been reduced) and during long-term post surgery recovery.
A T•Shellz Wrap® should not be used directly after an injury, as you must wait for swelling to drop. T•Shellz Wrap® treatments should not be started for a least 6 weeks (and only after approval from your surgeon) after surgery because inflammation levels will be very high as the healing process starts over again. Any use of a T•Shellz Wrap® should also be combined with gradual movement to stretch out the shoulder and increase range of motion.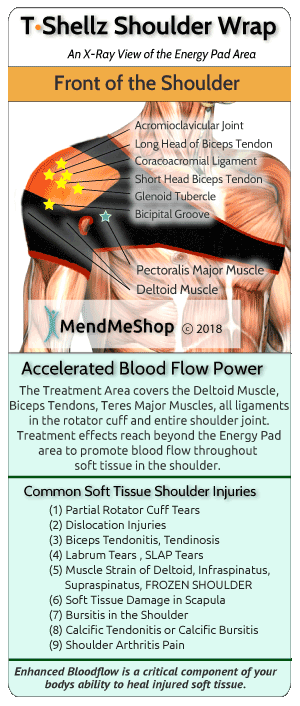 If you have a chronic shoulder injury that keeps getting re-injured you should use a Shoulder TShellz Wrap before activity to loosen up your tissue (making it more flexible). This treatment is shown to increase the elasticity (flexibility) of the soft tissue in and around the treatment area, making it more pliable for activity and less likely to re-injure.
Sometimes we feel pain while doing a certain activity - should you still use Circulatory Boost? Using a TShellz Wrap in the morning before you start your day or before activity can help to boost blood-flow and reduce risk of further strain or injury. Use cold part-way through your day after you have been active so you can decrease pain and inflammation from the flare up.
Using a Shoulder T•Shellz Wrap® is a good long-term plan because it will help stimulate healing and can also be used on a preventive basis to relax constricted soft tissue. Circulatory Boost enhances the local blood circulatory system, increasing the flow of nutrients your tissue needs to heal - oxygen, nutrients, anti-bodies and energy.
In summary, use a Shoulder TShellz Wrap (HEAT):

When the swelling is gone (usually after applying cold compression to the injury over 24 to 48 hr period).
BEFORE getting out of bed in the morning. BEFORE going to bed at night.
BEFORE exercise, workouts or activity of any kind to increase elasticity of the ligaments & tendons and decrease chance of re-injury.
AFTER surgery (once the skin wound has healed over completely and the doctor says its ok) to increase post-surgery healing rate and minimize scar tissue growth at the surgery location.
Anytime BEFORE you feel you might undertake activity that will put significant strain on the injury area.

Any other situation where you need to increase blood flow to your injury to relax your shoulder, relieve trigger point pain / spasms, prevent re-injury and enhance flexibility of your tissue.




---

Surgery, Rehabilitation and Healing Shoulder Exercises
If you think you might require shoulder surgery click here.
If you have undergone shoulder surgery and are looking for rehabilitation information, click here.
Increasing flexibility and strength in the shoulder is a key component to speed healing and avoid re-injury.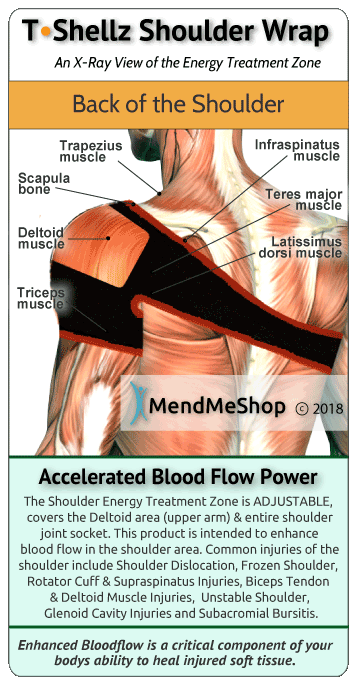 Even when you're injured and in pain you need to keep moving to break-up scar tissue that's forming in your tendons and ligaments in your shoulder.
Regular movement can increase the range of motion (ROM) of your shoulder, guaranteeing you a speedier recovery process and return to regular activities.
Moving when you're injured is hard. Since moving while injured can be painful most people think it's better to stop moving, rest their shoulder and hope that their shoulder injury will heal all on its' own. Even though rest is important to recovery, too much rest during the recovery process will increase the amount of scar tissue in your shoulder.
Circulatory Boost shoulder treatments combined with a proper shoulder stretching regimen will help decrease scar tissue growth while increasing elasticity and strength in the shoulder joint.
During the healing process your body will fill in soft tissue tears with dense, brittle tissue called "scar tissue". The human body will use scar tissue as a temporary solution and will try to build the scar tissue as fast as possible to heal a tear in the soft tissue. Scar tissue can form fast to bring together the edges of a tear, but working fast doesn't mean that the job's done right. When scar tissue forms it doesn't come together as neatly as regular (healthy) tendon/ligament tissue would. Scar tissue fibers will lay down over top of your tear in a cluttered, messy and jumbled up way.
Shoulder Joint Atrophy is arguably a bigger issue than scar tissue. Whether you have a shoulder injury or have recently had a shoulder operation, you will find that the joint has a more limited range of motion than you had before. In most cases, this is due to atrophy - the shortening of connective tissue in the shoulder due to inactivity. In cases where atrophy exists, it is very important to stretch and do gentle exercise to nip this problem in the bud before it becomes a chronic (long-lasting) issue. If you are currently recovering from a shoulder injury speak with your physician about stretches and exercise.
When done properly under recommendation of a physician, shoulder stretches have a proven track record of assisting in the speedy recovery of many patients. This is without doubt, the third and final essential tool for complete shoulder injury recovery. Once a patient deals with the swelling and inflammation through use of a Cold Compress or Ice Pack, then begins the Circulatory Boost process by using home treatments with the TShellz Wrap, all the while keeping rested to keep stress off the injury. Once the injury has healed, it is time to take the third and final step to recovery by beginning a shoulder rehabilitation stretching regimen.
---
Prevention and Promotion of Lifelong Health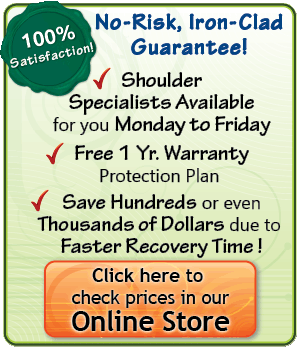 If you want to avoid re-injury, or manage pain and increase circulation for lifelong health benefits a Shoulder TShellz Wrap will provide the results you are looking for.
Why spend time in pain, off from work, and missing out on your active lifestyle when you can be proactive about your injury and the health of your body? Talk to your doctor about incorporating a regular routine of using Circulation Boost.
If you are suffering through a rotator cuff injury, we strongly believe that we can help you, and we have thousands of happy clients to back this claim. You are welcome to try our products for a 60 day period.. If you are committed to following the treatments outlined in the product instructions we are very confident that our TShellz Wraps will aid you immensely. If you do not receive the benefits that countless of our other customers have experienced from our products, call us, mail the product back to us and we will provide you with a full product refund.
---
The Next Step Is Up To You!
Click HERE to Go To Our Online Store We take all major credit cards and Paypal. If you are on your mobile phone, Click HERE to Call Our Office (toll free continental NA).
Living with pain is never easy as it affects your entire lifestyle. Living with pain during or after an intensive surgery and lengthy rehabilitation period can be even harder! What is more important than taking your best shot at trying to heal your shoulder before signing up for surgery?
Doctors and Surgeons are always improving the technologies used in surgery, and results from surgery now are much more positive than they were in the past. However, all surgeries introduce scar tissue, and recovery from shoulder surgery is often disappointing. If you do wind up getting surgery, know that rehabilitation at-home while attending regular physical therapy or doctor appointments is vital for your overall recovery. It is especially vital to the shoulder and knee areas, as they consistently handle extreme forces (body weight). Consistent exercise and conservative treatment on a daily basis during your rehabilitation while working with your doctor, surgeon or physical therapist is key - and this is why you should seriously consider maximizing your recovery by using the Shoulder T•Shellz Wrap® at home once you are approved for physical therapy.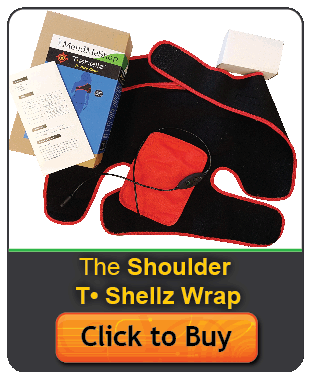 AidMyRotatorCuff.com stands out in this regard as our goal is to help you keep your shoulder healthy for the long-term in a cost effective manner. This might mean healing your shoulder without needing surgery. If you couldn't avoid surgery, then our tools can also help you recover from surgery more quickly and completely..
We strongly believe that we can help you, and we have thousands of happy clients to back this claim. You are welcome to try our products for a 60 day period.. If you are committed to following the treatments outlined in the product instructions we are very confident that our TShellz Wraps will aid you immensely. If you do not receive the benefits that countless of our other customers have experienced from our products, call us, mail the product back to us and we will provide you with a full product refund.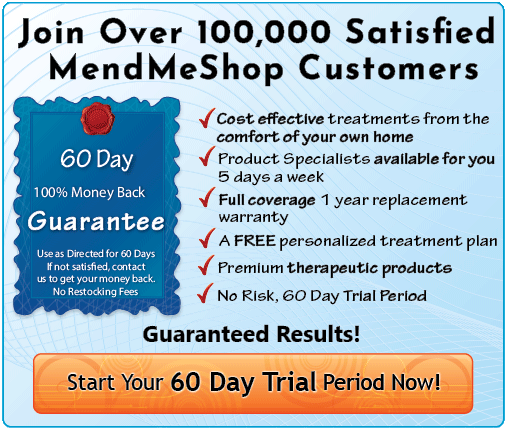 Call one of our AidMyRotatorCuff Advisers at no cost or obligation to address any lingering questions you have about our rotator cuff solution - toll free 1-866-237-9608. You can also place an order with us over the phone.
---
Prevention and Promotion of Lifelong Health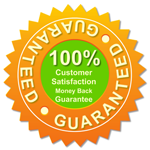 North America Toll Free 1-866-237-9608
Outside North America +1-705-532-1671
Living with pain is never easy and we encourage you to call us if you have questions about our products. We will do our best to help.
Available Monday to Friday
---
Please be aware that this information is neither intended nor implied to be a substitute for professional medical advice. CALL YOUR HEALTHCARE PROVIDER IMMEDIATELY IF YOU THINK YOU MAY HAVE A MEDICAL EMERGENCY. Always seek the advice of your physician or other qualified health provider before using any of our outstanding products to make sure they're right for you and your condition or if you have any questions regarding a medical condition. Always see your doctor for a proper diagnosis as there are often many injuries and conditions (some very serious) that could be the cause of your pain.
© 2022 In.Genu Design Group, Inc.