---
The surgery that your surgeon will recommend for you will depend on the level of your pain and the type of injury to the shoulder and the amount of damage from your physical exams, x-rays and MRI results. As with any surgical procedure, there are risks. Such risks for rotator cuff surgery include, but are not limited to:
general risk of anesthesia
infection
blood vessel injury
shoulder instability
increased pain
nerve injury
the need for repeat surgery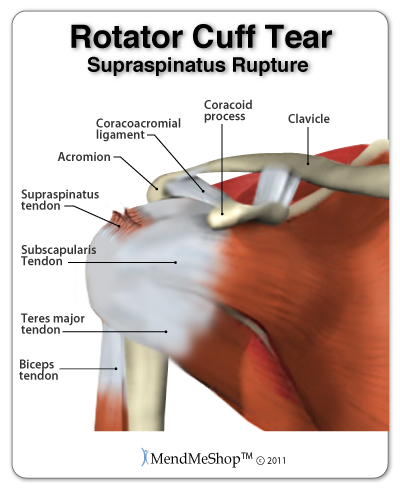 It is always highly recommended that anyone considering surgery always have a clear understanding of the risks as well as the benefits of elective surgery. In addition, one should also be aware of the success rate of the particular surgery in question combined with the post-surgical recommendations that will typically have an impact on your chances of success. As an example, in nearly all cases of rotator cuff repair surgery (in both arthroscopic and open), immediate postoperative physiotherapy (stretching, exercise) is initiated generally lasting from 12 to 16 weeks. Your surgeon should provide a treatment plan to help you regain normal use of your shoulder as soon as possible.
The rotator cuff surgery to repair a torn rotator cuff muscle or tendon usually involves one or more of the following surgical goals:
Debridement - this is the removal of any loose fragments of tendon, bursa, bone or other debris from the space within which the rotator cuff moves.
Smoothing - the surgeon makes room so the rotator cuff tendons and muscles can function properly without being pinched (aka impingement). This sometimes results in shaving down of bony edges or spurs from the shoulder blade so tendons can slide across without fraying.
Stitching - torn tendon edges are sewn back together and reattached to the upper arm bone (humerus) if needed.
---
2 Most Common Surgical Procedures for the Rotator Cuff
Arthroscopic Surgery
The surgeon will make tiny incisions around your shoulder joint and insert a pencil-thin camera with a small lens and lighting system. These images will then be transmitted to a TV monitor, which allow the surgeon to make a diagnosis and/or perform the repairs needed in the rotator cuff.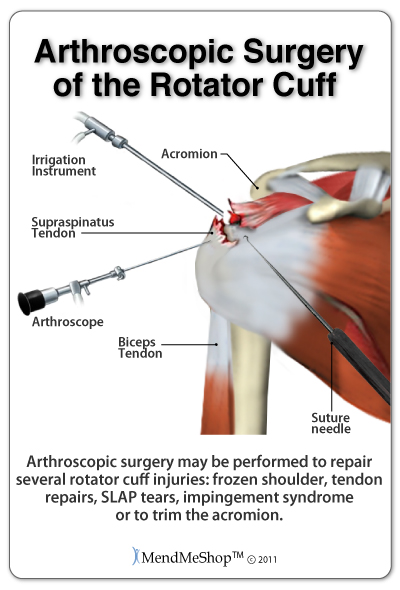 Impingement Syndrome and Partial Thickness Rotator Cuff Tears are best treated by this type of surgical repair. They may require a debridement and/or shaving or removal of bone spurs and fragments that can catch when your arm is rotated. At the end of surgery, your incisions are closed, and a dressing is applied. As arthroscopic surgery is minimally invasive and patients usually recover at a much faster rate.
Traditional Open Repair Surgery

This type of surgery is often the first choice of most surgeons. If you have a complex or full thickness rotator cuff tear, the surgeon will use sutures (stitches and/or metal or plastic anchors that hold the tissue together after they have been severed) to help attach the tendon back to the tissue or bone.
Open repair surgery is also used when additional reconstruction is required, such as a tendon transfer and/or shoulder replacement.
There are always some risks with any surgery, which may include possible infection, allergic reaction to medications, and damage to surrounding nerves or blood vessels. Surgery always will lead you to have more tenderness, pain, stiffness and weakness after surgery, but with proper rehabilitation these should diminish.
Surgical therapy is often recommended for younger individuals, people who continuously use their shoulder for work, athletes, or when non-surgical treatments are not effective. Although surgery is often successful at repairing any damage and/or relieving pain, it does not necessarily return strength to your shoulder. That's why a strong commitment to rehabilitation is essential.
After the surgery is done, you can expect to undergo recovery and rehabilitation efforts for several months. Range of motion movement is encouraged early, with restricted motion within days after surgery. This is an important step as your body heals scar tissue is forming.
Depending on your job (and whether your occupation has caused your condition), you may be able to return back to work within a few months. Overall healing of your shoulder after surgery may take upwards of 4 to 6 months, which means you may not be able to return to sports or heavy use of your arm for some time.
---
Getting Started with Your Post-Operative Rehabilitation
If you have undergone surgery on your rotator cuff injury then your physician will quickly get you on the path to rehabilitation. Now, your desire have your shoulder back to normal, will greatly depend on your rehabilitation efforts. Your injury's ability to heal will depend on a variety of factors including (but not limited to):
your age, overall health and activity level
the state of your injury before surgery (severe injuries like a tendon rupture, open wound, bone damage or fracture will require more intense surgery)
the type of surgery you have undergone
how soon you must return to normal activity
No two rehabilitation plans are alike - The less invasive your surgery is,
the quicker your road to recovery will be.
The goal of a rehabilitation plan is to manage pain and swelling while improving function, strength, and range of motion. Ultimately, you will regain strength in your shoulder and rotator cuff tendons to be able to use your shoulder normally and return to full activity. You will most likely spend a lot of time with a physical therapist after your surgery, but as your healing progresses, emphasis will be placed on your personal, at-home treatment. The success of your rehabilitation will depend on your dedication to working with your doctor and physical therapist while also managing your recovery on a daily basis at home.
Regardless, of what type of surgery you've had (or even if you don't need surgery) your home therapy routine can be improved by controlling initial and on-going pain/swelling, and increasing blood flow to heal your tendon so that you can achieve long-term, positive results. This can easily be done by incorporating the use of a Cold Compress or Ice Pack and a Shoulder T•Shellz Wrap® into your rehabilitation routine. Regular treatment with these protocols will decrease your time spent in recovery.