---
Our Rotator Cuff Treatment Formula is Proven to Work!
It may seem hard to believe, but our Shoulder T•Shellz Wraps® will assist you in recovering from your injury by reducing your swelling and inflammation induced pain and maximizing blood flow where it's needed most.
Here at AidMyRotatorCuff we pride ourselves in helping you with your healing and recovery process. Everyone at AidMyRotatorCuff has tested and used the products, finding solutions to conditions that do not fit into the norm. This dedication to our customers and our products goes hand-in-hand with our guarantees to you as a customer:
Guarantee #1

- Use your products diligently for up to 60 days and you will experience a significant reduction in pain. If not, I encourage you to send back the items for a 100% refund.

Guarantee #2

- You will not be left in the dark after purchasing any product from us. AidMyRotatorCuff Advisers and Product Specialists are available 5 days a week by toll free phone 1-866-237-9608 or email to answer your questions or concerns.

Guarantee #3

- Your order is guaranteed to be shipped within 24 hours on every business day.

Guarantee #4

- All purchases receive a one year, full replacement warranty with guaranteed, prompt service.

Guarantee #5

- You could easily save hundreds of dollars and probably much more, by utilizing our products and getting back to work sooner.
We are very confident our TShellz Wraps and exercise ebook products will assist you in recovering from your injury by reducing your swelling and inflammation induced pain, maximizing blood flow where it's needed most and increasing the flexibility / range of motion of your shoulder with consistent, safe stretching.
---
Yes, they are that good.
See for yourself.
The T•Shellz Wraps® are FDA Registered Medical Devices, and are suitable for use in therapeutic clinics. Since they are completely safe for patients to use themselves as instructed, they are now available for use at home.
Once treatment is complete, you also have the option of tightening the straps to provide light compression support for your injured joint. You can also unplug the device from the power supply enabling you to move around the home, office or clinic freely and still use the wrap for support and comfort.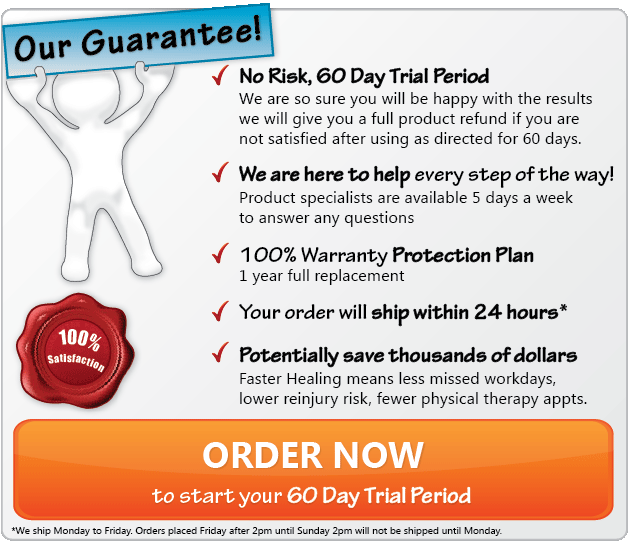 Product Advisors are available 9:00 am to 5:00 pm Eastern Standard Time Monday to Friday.
---
Learn More About SUPERIOR Frozen Shoulder Treatments
I want to learn more about Shoulder Post Surgery.
I want to learn more about how the Shoulder T•Shellz Wrap® helps with the healing process.
Click HERE to Go To Our Online Store We take all major credit cards and Paypal. If you are on your mobile phone, Click HERE to Call Our Office (toll free continental NA).
Living with pain is never easy and we encourage you to call us with any questions you have related to your knee injury. We will do our best to help.
Available Monday to Friday
---
Please be aware that this information is neither intended nor implied to be a substitute for professional medical advice. CALL YOUR HEALTHCARE PROVIDER IMMEDIATELY IF YOU THINK YOU MAY HAVE A MEDICAL EMERGENCY. Always seek the advice of your physician or other qualified health provider before using any of our outstanding products to make sure they're right for you and your condition or if you have any questions regarding a medical condition. Always see your doctor for a proper diagnosis as there are often many injuries and conditions (some very serious) that could be the cause of your pain.